When fulfilling your lifting, moving, and loading needs selecting the right equipment comes with a variety of considerations. Other than size, capacity, and model, there is also technology requirements necessary to complete the job, temporary or long-term needs, and of course, cost.
Although brand new equipment is appealing, it may not always be necessary, or within the project budget. Pre-owned lifting equipment might be your best bet when it comes to adding an extra workhorse to your fleet. They provide an array of advantages and benefits to help fulfill your project needs, while remaining within budget.
Pre-Owned Equipment Advantages/Benefits
Equipment Familiarity
Newer models of lifting equipment usually come with upgrades that may seem alluring at first, but may not be as beneficial as you originally thought. Updated, newer cranes and trucks can have unique features that might be unfamiliar to the operators. This means time and money spent on training before the equipment can be used.
When making equipment purchase decisions for your projects, consider the operators in terms of function. Ease of use is always a plus, especially when that means you can put your fleet to work right away.
Reliable, Proven Performance
Unlike newer counterparts, used cranes and trucks have real life work experience. Comparable to a seasoned employee, pre-owned lifting equipment offers a lot of value to a company. To ensure smooth operation, confidence in your equipment and proven reliability are necessary components. Furthermore, distributors who hold partnerships with dealers with a phenomenal track record of service allow you to find the top pre-owned equipment in the market.
More Lifting Equipment Choices
Another key benefit for buyers is the global used equipment market is massive. This allows for more options of equipment than a single brand could offer. Whether you are looking for a Rough Terrain Crane for a rugged construction site, or a Lattice Boom Crawler for those tough to reach jobs, a distributor of used equipment will have the variety you need to complete your individual project.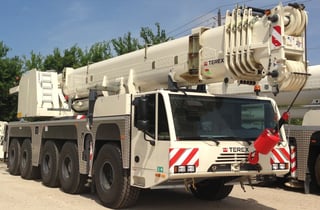 Upfront Savings
Lifting equipment is a substantial company investment, and as a buyer, you want to make sure you are spending money in a way that will ultimately aid the growth of your business. Pre-owned cranes and trucks costs less, and are often nearly half the price of its newer counterpart.
Your buying power increases with the purchase of used equipment, since your option to purchase multiple machines for the price of one is available, or you are given the choice to use the money on other areas of the project that need it.
Lasting Crane Value
Although pre-owned equipment has depreciated, if it is well-maintained it will hold its value. By sticking to a regular maintenance schedule and documenting all services and repairs, you could easily get close to what you paid for it.
More Project Flexibility
Projects with short-term contracts that require a specific type of machine are common in the construction industry. Buying new equipment specifically for this job could mean long wait times for order fulfillment and a significant loss in value from the time you buy to the time you sell.
When working these types of jobs, used equipment is the most logical choice. They can be acquired relatively quickly and then easily sold after the jobs wraps up – with little depreciation.
Get the Equipment You Need at a Price You Can Afford
Project budgets can be tricky to maintain, especially when large purchases, such as new lifting equipment, come into play. Even if you are limited price-wise, choosing a used option could actually get you a better crane than what you could buy brand new. There's nothing better than landing a great deal that expands business performance and productivity. Contact Scott-Macon Equipment today for a quote on our variety of inventory. We can help you find exactly what you need and guide you through the process of used equipment purchase.