The Terex RT 100 US has been designed to ensure versatility thanks to three boom modes and two-part folding jib. This rough terrain has a lifting capacity of 100 tons with a maximum boom length of 154 feet.
Terex RT100 Features
With advanced features like the IC-1 Plus control system, customers are given the flexibility to lift heavy loads with less counterweight, in turn reducing operating costs. With Demag Tech Inside, this control system enables lift capacity based on slewing angle and asymmetrical outrigger positioning. Available in 17 languages, the Demag IC-1 control system brings improved quality and reliability as well as advanced diagnostics to allow easy service.
Its features also include a compact design to offer an easy transport, an ergonomic and comfortable cabin, and two engines available with Tier III and Tier IV final. Designed specifically for ease of use in the RT market, the Terex RT100 can be easily operated via IC-1 control system and electro-proportional joysticks.
Terex RT100 Specifications
| | |
| --- | --- |
| Technical Details | Imperial |
| Capacity class | 100 US-tons |
| Main boom length | 154.2 ft |
| Maximum system length | 210.0 ft |
| Maximum counterweight | 11 US-tons |
| Overall length | 46.2 ft |
| Carrier length | 29.0 ft |
| Carrier engine | 225 hp |
| Maximum travel speed | 17 mph |
| Drive chain | 4 x 4 |
| Tires | 26.5 R25 (29.5- 25 optional) |
| Maximum gradeability | 76% |
Off Road and Power Capabilities
With the Terex RT100, situations that require your rough terrain crane to be taken off the road are met with powerful enthusiasm. Powered by a six-cylinder diesel Cummins engine that churns out 262 horsepower, the Terex RT100 provides a class-leading 100-ton maximum lifting capacity. Its four-speed power shift transmission is perfectly paired to a four-wheel drive system that provides the power and speed needed to travel in nearly any type of job site. Not only does this tough crane meet the needs of construction firms for lift and place projects, its 174-foot dual mode telescoping system gives it the versatility to unload and place equipment, assist in the construction of bridges, erect steel components and more.
Safety Features
Both maneuverability and safety are built right into the design of the Terex RT100 rough terrain crane. The high-strength outriggers can be positioned independently of one another to allow for easy leveling and the maximum in stability. A three-mode steering system provides the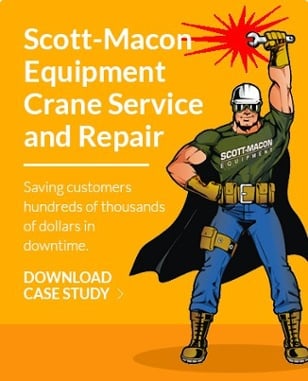 flexibility to position the Terex RT 100US rough terrain crane exactly where it is needed on the job site. The in-cab electronic monitoring system allows the operator to electronically monitor a work area defined by the customer, as well as the required load parameters to ensure the maximum in productivity, power, safety and maneuverability.
Operator-friendly Benefits
During the making of the Terex RT100 rough terrain crane, options for the operator weren't added in as an afterthought. Instead, items like a climatized cab with air-conditioning and a non-ignition source heater were built right into the crane's design. The fully-adjustable seatrests on shockproof suspensions and is equipped with tiltable armrests. The integrated hand controls in the form of electro-proportional joysticks allow for ease of operation.
It's obvious the cab was also designed to improve safety and visibility. A sliding door offers quick and easy access to the cab while the upper windows can be opened. The front and upper windows are also equipped with windscreen wipers.
Terex Crane Dealer
As an authorized Terex dealer, Scott Macon Equipment is the go-to place if you are looking for a Terex RT100 for sale or rent. Our expansive selection and professional customer service ensure the complete satisfaction of our customers. Contact us today to request a quote or to receive more information about our Terex rough terrain cranes for sale or rent.