Scott-Macon Equipment recently attended the second annual 2016 Lift & Move USA Career Fair in Houston, an education seminar and career fair aimed at bridging the talent gap between prospective employees and the crane, rigging, and specialized transport industries.
Hosted by TNT Crane & Rigging, the 2016 Lift & Move USA Career Fair followed 2015's successful first event in Chicago. The event brought 650 students from local high schools, colleges, and military veterans to TNT Crane & Rigging's headquarters.
With the goal of making students aware of crane industry careers, Scott-Macon Equipment connected with local high schools and showcased the many opportunities in the cranes and rigging industry. Scott-Macon Equipment also plans on bringing interested students into its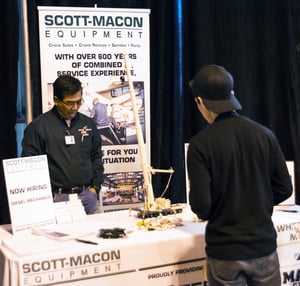 apprenticeship program with the prospect of full-time employment after graduation.
This year's event was the first for Scott-Macon Equipment to attend. Employees from both of our sales and service departments attended the event.
"We felt it was a very worthwhile event to attend," said Anita Woodruff, Assistant Vice President and Equipment Manager at Scott-Macon Equipment. "We were able to get an awareness of the industry out to students that otherwise may not know of the career opportunities available."
Scott-Macon Equipment would like to thank TNT Crane & Rigging for hosting the 2016 Lift & Move USA Career Fair. We enjoyed spreading awareness of the industry to students who are looking for great career opportunities.