Only the right equipment will keep your construction site running on schedule and protect your entire team from unnecessary danger. Hydraulic crawler cranes are designed for challenging areas where other lifting equipment could lose its footing and tip over or slide. When there's no margin for error and you need plenty of lifting power for steel beams and other heavy materials, hydraulic crawler cranes are your best bet. These cranes offer a unique set of benefits to all heavy equipment users.
The Power of Hydraulic Crawler Cranes
All crawler cranes are built around a chassis that utilizes tracks similar to those found on tanks. By replacing tires and axles with a flat gripping surface, the designers dramatically increase the surface tension at the bottom of the crane. This results in better results when you're working on a muddy, dusty, or otherwise loose surface. Crawler cranes are better equipped to deal with difficult spots requiring the ability to creep steadily over slopes, loose dirt, and other challenges.
Hydraulic cranes rely on a trustworthy and easy to maintain hydraulic lifting boom that is placed on top of a crawler base. Since the boom expands telescopically, there's no need for oversized outriggers to balance out the extension. You'll find it easier to fit these hydraulic crawler cranes into tight spaces and construction areas with little clearance.
Hydraulic Differ from Lattice Boom Crawler Cranes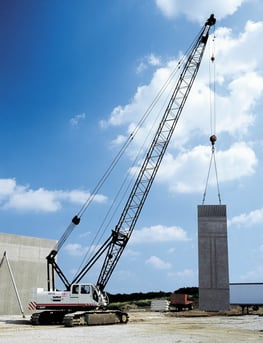 Lattice boom cranes build off the stability and ground crossing power of a crawler chassis, but a different boom is mounted up top to provide a different set of benefits to the operator and renter. While hydraulic booms are great for loads of materials and tools, sometimes you need a much stronger lifting arm for oversized loads. The Terex lattice boom crawler crane line can lift up to 1,760 tons at once, making one of these models the best choice for a project that involves major loads.
Lattice booms also offer superior reach options. These arms consist of hollow tubes connected with high strength cables and wires, resulting in a minimal looking boom that can unfold and support surprising amounts of weight at the end of the boom without tipping over the chassis.
Choosing the Right Crawler Crane
When choosing a hydraulic model for small spaces, check out the Tadano Mantis hydraulic crawler cranes. These models offer lifting capacities between 30 and 120 tons and boom lengths of up to 128 feet. For bigger projects, the Terex lattice boom crane options are tremendous. Start at 80 tons and pick from nearly a dozen options up to 1,760 tons with a 705 foot maximum jib length. No matter what you need, we have it here at Scott-Macon Equipment for rent or for sale.